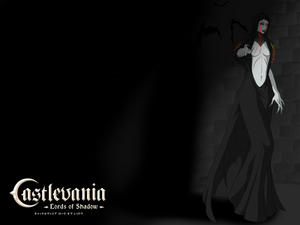 Once a holy woman, pure of soul and body and the best healer of the kingdom, Carmilla´s sould trascend reality to reach God´s kingdom but wath she left behind changed the human world. Now as a Lord of Shadow and Queen of the vampires, Carmilla reign the colder parts of the wrold and spread death and fear from her palace, Castlevania.
Her theme xD:
I really love the character design of this game! Her pale skin and expressionles face alongside her black robes wraped around her body makes me think on a corpse in a morgue. Plus, her dress still have the look of a nun (she was a holy woman in life) but with a very sensuaul opening....her design looks simple but theres a lot of ideas going on with her!!
OK, i know theres a lot of empty space, theres anatomycal mistakes, some details are off (like the flowers design on her dress) and theres a quality drop but i made this just to kill my artblock xDDDD
Anyways, A WARNING!!!!! My next picture have masive spoilers of Castlevania Lords of Shadow, soo stay away if you dont want to see!!!!